Winter Sale Bundle Offer As Never Before 2 eCommerce Stores in Price of 1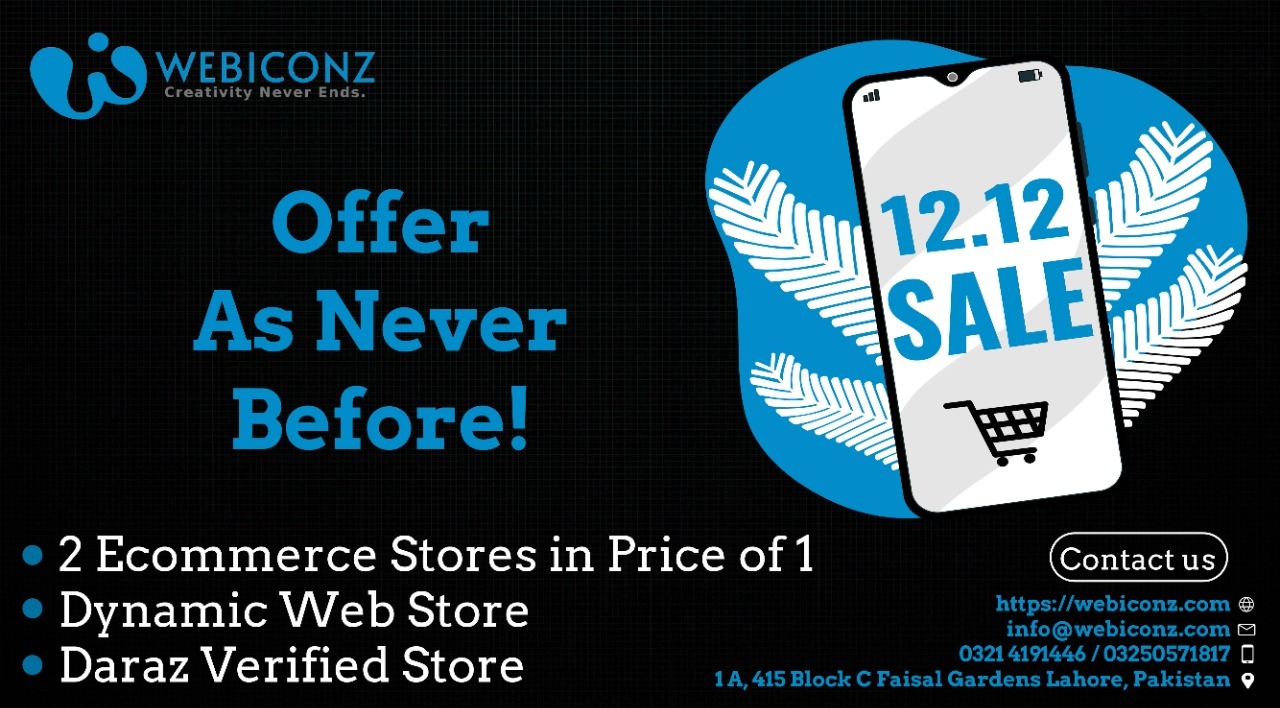 Looking for eCommerce website design agency in Lahore? Webiconz Technologies offering free 

Daraz Verified Account

 with eStore ☎️ +923214191446
12.12 Sale 2021
Design and development for eCommerce stores at Webiconz create tailored eCommerce solutions.
Our dynamic web store guarantees distinct solutions according to your business model. Also, this season's 12.12 sale 2021, the sale on eCommerce website design in Lahore brings you the most exciting offer.
On buying 1 eCommerce store development, you shall get another one absolutely free.
This deal in this cyber sale week can, however, come in very handy.
Though sales pose some limitations we are offering solutions incorporated with the latest technology. Furthermore, we also provide a Daraz verified account.
eCommerce Development Agency
Get the best eCommerce architecture to achieve a dynamic web store this 12.12 sale 2021. Webiconz's ability to work with diverse organizations and not limit to some niches lets you take advantage of our expertise. The sale on eCommerce website design in Lahore
is also valid on getting a Daraz verified account. So get an eCommerce store and reduce costs associated with brick-and-mortar stores.
Designing and launching an eCommerce website is not as easy as the other sites. It requires having its information system in place so customer information is secure and payment gateways are safe to use. Moreover, driving traffic to an eCommerce store is quite a task but with a well-versed organization like Webiconz, you can get marketing services too.
Note: Offer is valid till 

31st December 2021

.🤩
Dynamic eCommerce Website Design in Lahore
The dynamic web store you shall get on sale on eCommerce website design in Lahore shall be user-centric. However, from the company's perspective, a custom-tailored and a Daraz verified account is what you get from us. While designing, we anticipate potential traffic fluctuations to make it a customer-centered store.
This 12.12 sale 2021 we are taking care of your customers' potential doubts and questions regarding your products. Thus, helping your business to prove its credibility. Your reliability and quality of products depend on your business, however; trust is gained through a professionally built store. A dynamic web store launch takes less time however the return on investment is also fast.
Free Daraz Verified Account
Get a dynamic web store and a Daraz verified account for this 12.12 sale 2021 which significantly enhances your conversion rate. This season's sale on eCommerce store development in Pakistan lets you avail of big discounts on B2C and B2B eCommerce development agency. Although eCommerce stores are available to build through templates however they do not offer customization.
Businesses willing to go the extra mile show their concern by getting customized solutions. Designing a website that is not just attractive to see, easy to use but gives a reason to trust too is what customers look for. Furthermore, to help your customers access you easily, we build stores that support different interfaces.

For more details, make a call or drop a message on WhatsApp. You may visit our office through Google navigation. You can contact us,or email us for any digital service.

Common Searches:
eStore design services near Lahore, eCommerce website design services near Johar Town Lahore, best eCommerce website design, 12.12 offers, winter sale offer 2021, eCommerce website design, Bundle offer 12.12, eCommerce website development service near me,