The Best Limo Web Design That Will Drive You Crazy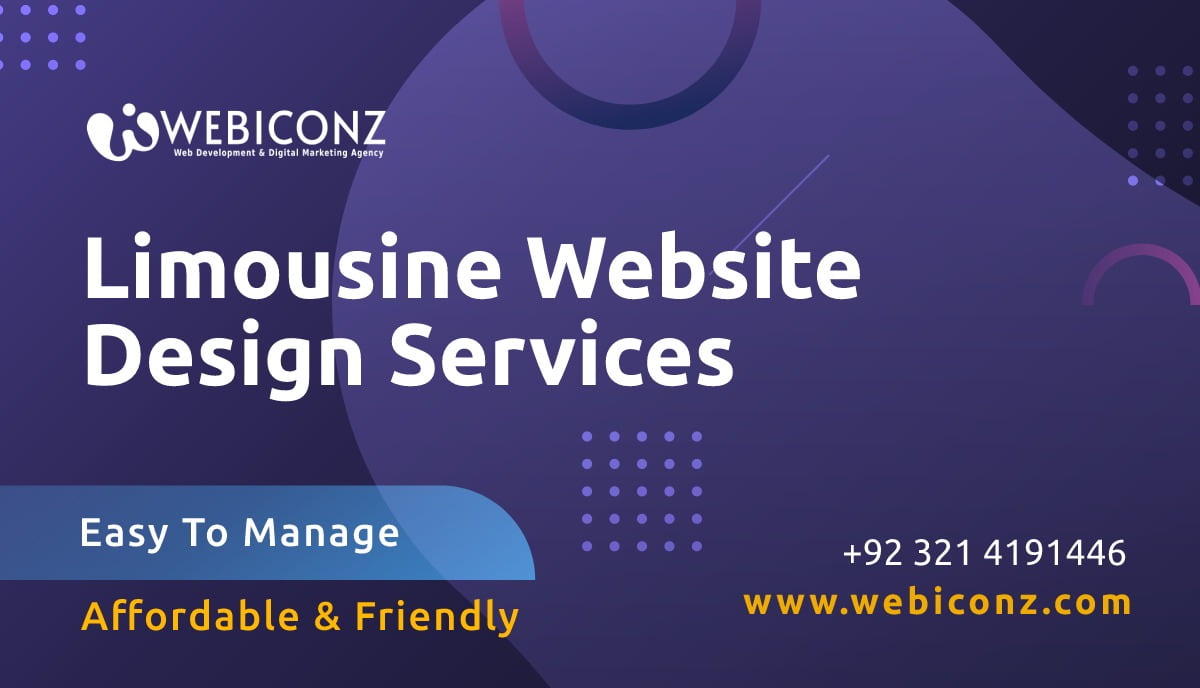 Need the best limo website design or best limo web designer? Hire us for a limousine service company website & get limousine Web design services in Pakistan. 📞 +923214191446
Most people only think about their limo company's website design if they have to. If you run your own limousine business, you know your site needs to look amazing if you want customers to notice it and convert. After all, nobody will exchange their credit card information for an ugly website. Webiconz offers a vast selection of limousine web design templates so that you can find one that suits your needs.
Reasons To Pick The Best Limo Website Design
Choosing the best limo website design is a variety of jobs, and it's essential to consider your company's needs. A limo web designer should be able to create a custom-tailored website for your limousine service company's website needs and goals. While also considering any limitations or restrictions you might have regarding their work. The limo web designer will work with you every step from conception to execution, creating a site that looks good. And functions well on all devices and screens and is easy for customers to navigate.
Tips On How To Pick A Best Limo Web Designer
A limousine service company website is essential to your business identity and should be as beautiful and responsive as possible. Here are some tips on how to find the best limo web designer for your company:
Know what you want: Make a list of all the features you would like in your new site. Some examples may include social media integration, booking tools, and contact forms.

Hire a professional designer: Websites can be complex, with many components working together seamlessly. It's better to hire someone who knows their way than try to do it yourself from scratch or use templates.

Consider cost: The price will depend on your project's complexity, but plenty out there won't break the bank. So make sure you consider this when comparing designers or services companies in general before making any final decisions.
Things That Matter When Choosing A Professional Web Designer
Whether you want to build your limousine service company website or need a new one, knowing what to look for in a professional web designer is essential.
Here are some things that matter when choosing the best limo web designer:
Does their portfolio show they have experience designing similar websites?

Do they offer support after your website is launched?

Can you tell how much time and effort was put into their work?

How long did it take them to complete your project?
How often do they update the content on your site, and is this included in the package you choose?
Key Takeaways
Best limo website design can be a tricky thing. With so many options on the market, you may feel overwhelmed and need help figuring out where to start. Webiconz is one web designer who always gives clients the best experience possible. They go out of their way to ensure each project is tailored to the individual's needs, which sets them apart from other designers in this industry. We also provide our services in Lahore, Pakistan, Karachi, Islamabad, Rawalpindi, Multan, Faisalabad, Gujranwala, USA, UAE, UK, Canada, Germany, Malaysia, KSA, and other major countries.
For more details, make a call or drop a message on WhatsApp.
You may visit our office through Google navigation.

You can contact us, or email us for any digital service.