The eCommerce Web Development Agency You Can Trust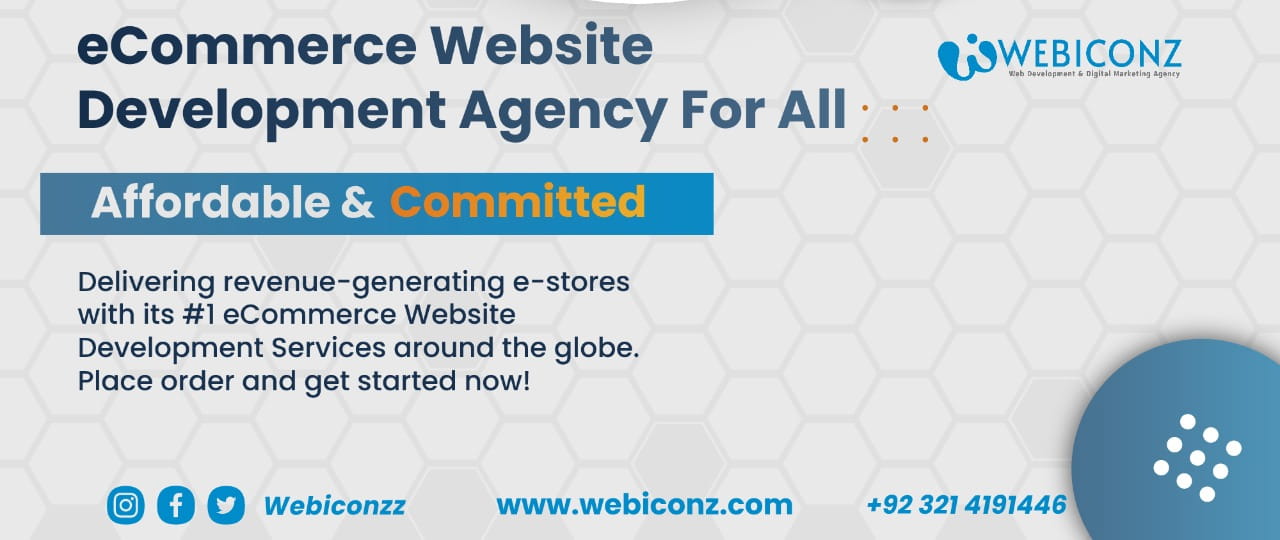 Looking for an eCommerce website development cost? Get eCommerce website design cost. Hire an eCommerce web development agency in Lahore, Pakistan. 📞 +923214191446
At first glance, it seems eCommerce and web development might not be related at all, but when you look deeper, you'll find that they are two sides of the same coin. eCommerce businesses need to have a website that sells their products quickly and effectively and web developers are the ones who create those websites. Both sides rely on each other to succeed, but you can't do either without the other. Webiconz is a web development agency. We are a team of developers, designers, and strategists who have expertise in all aspects of web design, development, and marketing.
We also provide our services in Lahore Pakistan, Karachi, Islamabad, Rawalpindi, Multan, Faisalabad, Gujranwala USA, UAE, UK, Canada, Germany, and Malaysia, KSA, and other major countries.
Why Use an eCommerce Web Development Agency?
While there are many advantages to creating your website. Moreover, hiring a professional web development company is one of those that you'll appreciate. An eCommerce web development agency has experience with a variety of clients and has worked with just about every type of business. So, that means they understand all kinds of websites, from consumer to B2B sites and everything in between. Additionally, an agency will have deep knowledge about what works for different kinds of businesses. As such, they can provide recommendations on how to make sure your site will appeal to its target audience based on who you are trying to reach out to.
How Does an eCommerce Site Help To Grow on Internet?
An eCommerce site allows you to set up an online store and start selling products directly to customers. Furthermore, this can be done through social media or regular websites, or even apps for your smartphone. Online shopping has become increasingly popular over recent years. Because it gives consumers peace of mind by removing geographical barriers. And, means you don't have to ship items around manually, cutting down costs dramatically. Because, companies have been hugely successful in doing just that; So, now it's time for you to do the same.  
What Does an eCommerce Website Design Cost?
The eCommerce website design cost depends on many factors such as your business requirements, industry, and more. Also, it's always a good idea to do your research before you hire an agency for your project. So, if you want to know how much it costs to build an eCommerce website then we are here to help. And, we will tell you about all of our services in detail so that you can make an informed decision about which service is right for your needs. And, after reviewing your information, one of our representatives will contact you with a quote. We look forward to working with you.  
What Is The eCommerce Website Development Cost?
eCommerce website development cost is based on various factors and the custom requirements of clients. So, the basic cost of an eCommerce website development depends on many things. Which includes several products, platforms, design templates, and customer or industry-specific features. For a company that has no experience with developing an online store or using platforms. And, it may be necessary to outsource certain aspects and save costs. Also, a full-service web development agency will do everything in-house but can also help you find third-party app developers for some more specific work if required.
The eCommerce development process starts with figuring out what platform would best suit your business needs. Because choosing proper design templates to decide which shopping cart options are most appropriate for your target customers.
Common Searches
eCommerce website development cost in Lahore, eCommerce website development cost in Islamabad, eCommerce website design cost in Lahore, eCommerce website design cost in Karachi, eCommerce website design cost in Pakistan, eCommerce web development agency in Lahore, eCommerce web development agency in Pakistan, eCommerce web development agency in Islamabad, eCommerce web development agency in Karachi, eCommerce web development company in Lahore,
For more details, make a call or drop a message on WhatsApp.
You may visit our office through Google navigation.

You can contact us, or email us for any digital service.