Why Hotel Web Design & Development Is Essential?
Looking for hotel web development service or hotel web design & development agency? Get  web designing services for hotels from a professional hotel web design companies in Lahore Pakistan.
It will not only talk to the search engines in a very positive way, but it will also effectively communicate with your guests. In addition, our hotel websites are easy to manage without the need for a professional hotel web design company in Karachi. We can also show you how many visitors you had, where they came from, and what they like. Ultimately, our goal is to turn site visitors into paying hotel guests. Contact us today!
As a hotel owner, it's important to have a website that is not only aesthetically pleasing. But also easy to use and navigate potential guests should be able to find all the information. They need about your hotel on your website, without any difficulty.
That's where our professional web designing services for hotels come in.
Our skilled team of web developers and designers has created hundreds of bespoke websites for the hotel and hospitality industry.
Each of our hotel websites is designed with the intended audience in mind to drive traffic to your website.
How To Choose The Right Company For A Hotel Web Development Service For Your Business?
Hotel management is an important business function, and as such, you might find it surprising that there are quite a few different types of hotel management services in the market. Business hotel management,  event planning, and even real estate management are just some of the other services that you can hire.
Choosing the best hotel management service for your business is a difficult task. Not understanding where to start and what to look for can be a major obstacle to success.
We understand that first impressions are everything as a hotel web development service in Lahore Pakistan. Your website is often the first point of contact between you and your guests. Hence, it must make a good impression. That's why we offer high-quality web designing services for professional and stylish hotels. Our team of talented creatives will custom-design a website that perfectly reflects your hotel's unique brand identity.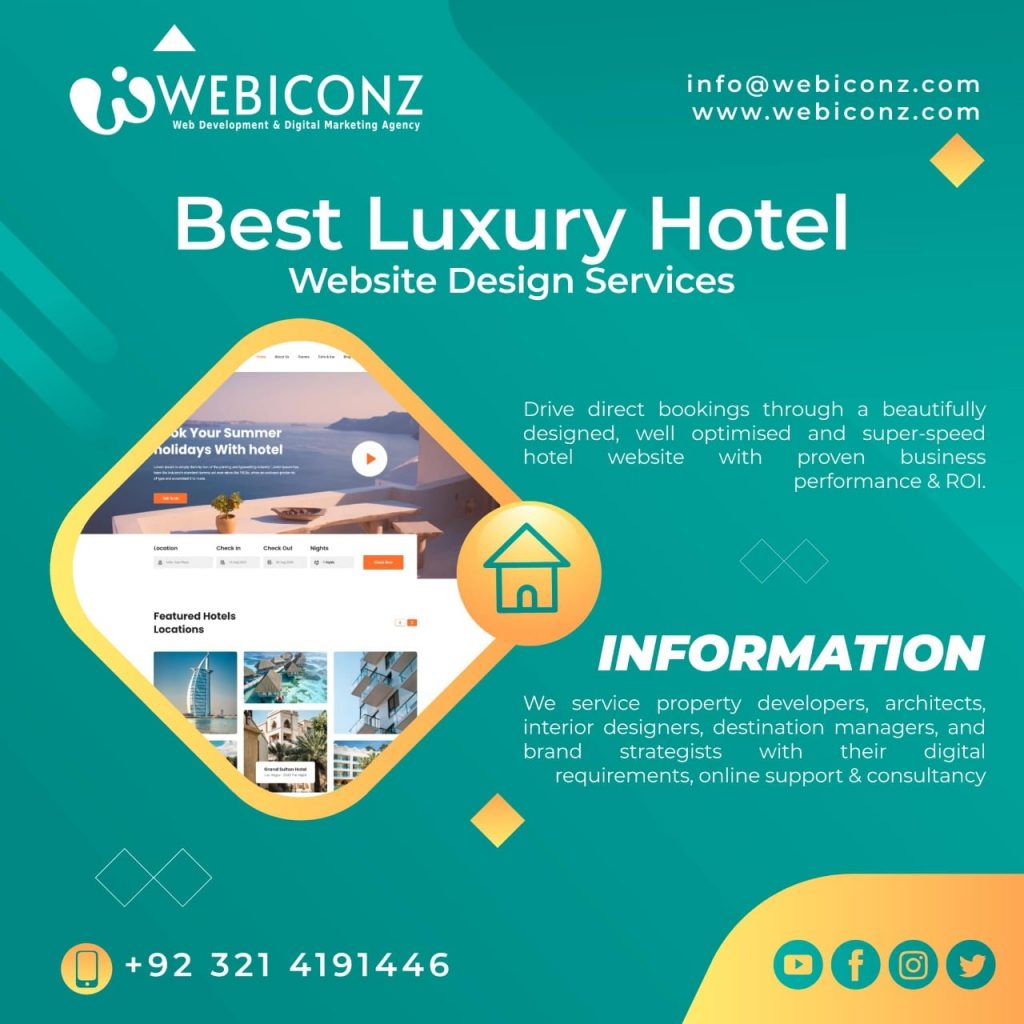 And, with our cutting-edge technologies and accurate data tracking, we'll make sure your website performs at its best. Our Google services and search engine optimization will help you attract more visitors to your site. And, for easy content updates, we'll provide you with the WordPress CMS with our hotel web development service
If you are looking for a top hotel web design & development services near me
hotel web design & development services near me to help you create a responsive website, then look no further than our professional hotel web design company. We can develop a hotel website that will adapt to display on all devices from a single content source.
Get The Best Web Designing Services For Hotels At Webiconz!
No matter what size hotel you have, our team can develop a plan that is perfect for your needs and budget. We take the time to get to know each hotel we work with so that we can create a web design that perfectly reflects the hotel's unique style. Whether you are looking for a modern website or something more classic and elegant, our team can make it happen. Contact us today for more information on a cheap hotel web development service & book your experienced agency.
Our web development services areas are Lahore Pakistan, Karachi, Islamabad, Rawalpindi, Multan, Faisalabad, Gujranwala, USA, UAE, UK, Canada, Germany, Malaysia, KSA and other major countries. Now, purchase the best package and hire professionals and experts when you are looking for a top, best, cheap, experienced agency or software house in 2022. Get creative hotel website development services near me at an affordable price.
Common Searches:
hotel web development service, hotel web design & development, web designing services for hotels, professional hotel web design company
For more details, make a call or drop a message on WhatsApp.
You may visit our office through Google navigation.

You can contact us, or email us for any digital service.