Affordable Online Landscape Design Service For Lawn Care Business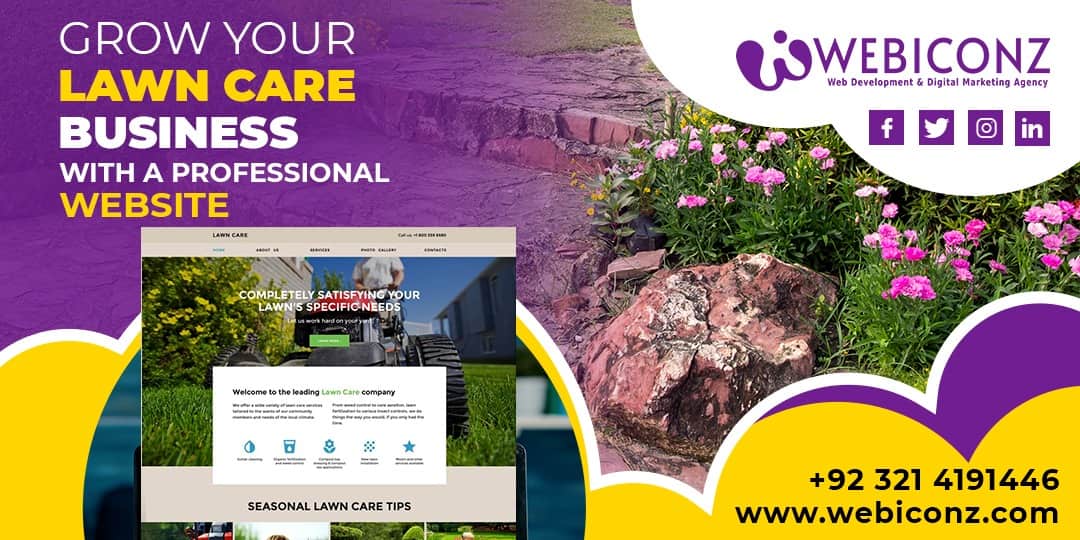 Do you want Affordable Online Landscape Design Service, landscape scape web development company, online landscape web design service, best landscape website design, landscape web design & development in Lahore, Pakistan? 📞 +923214191446
Suppose you want to expand your business by bringing in new customers online. Then, you need to consider hiring the best landscape website design and development services. Whether you're selling lawn and garden supplies or building custom homes. Your company must have a website that represents your brand well and makes it easy for potential customers. Thankfully, Webiconz specializes in the design of landscaping websites – some of which can help you get started with an effective site.
What is the Best Landscape Website Design?
While you may be a landscaping expert, that doesn't mean you are also an expert in web design. Because there are many different aspects to a website, creating a site as beautiful as it is functional is much more than simply putting some pretty images online. Landscaping companies that want to establish a professional presence on the internet should work with professionals who can offer website development services. Webiconz has been offering affordable landscape website design for over the years. And we have established ourselves as one of the best landscape website design companies online today.  
Our dedication to customer service, quick turnaround times, attention to detail, and creative solutions has helped us become one of the most respected landscape web development companies online today.
Why Choose Online Landscape Web Design Service?

A suitable online landscape web design service will use technology effectively to develop functional and visually appealing websites. What makes for a great user experience, and how do create websites accessible from any device or screen size. Your provider must also know the best SEO and content writing practices. So that your site will show up high in search results when potential customers perform searches related to your business's industry or products. The landscape web design and development company should provide cost-effective rates without sacrificing the quality of service. 
How to Choose an Affordable Online Landscape Design Service?
You will find the best landscape website design and development company (Webiconz) in Lahore, Pakistan. We offer flexible prices for all web solutions. Because we believe that no one should have to pay a lot of money to get a good job done. Our goal is to provide high-quality service at an affordable Online Landscape Design Service with a quick turnaround time so you can start seeing results as soon as possible. However, our team of expert designers and developers is here to help you every step of the way, from concept to completion. So, you can ensure your project is handled by people who know what they're doing. 
Importance of Landscape Web Design & Development
Any business would need a website that is appealing, eye-catching, and easy to navigate. Because we all know how busy we are these days. And, even a tiny detail like unprofessional websites can distract us from purchasing products or services. That's why it's crucial to invest in professional landscape web design & development that presents all your products or services. While keeping visitors engaged with captivating images and videos. If you don't have enough time to do it yourself, contact us now to get started. Also, we provide our services in Lahore, Pakistan, Karachi, Islamabad, Rawalpindi, Multan, Faisalabad, and Gujranwala. Also, USA, UAE, UK, Canada, Germany, Malaysia, KSA, and other major countries.
Common Searches:
Best landscape website design services, landscape website design services in Lahore, landscape website design in Islamabad, landscaping website design & development services in Karachi, lawn care web design service in Faisalabad, and best landscape design in Multan.
For more details, make a call or drop a message on WhatsApp.
You may visit our office through Google navigation.

You can contact us, or email us for any digital service.