What To Do After March 2023 Google Core Update Rolls Out?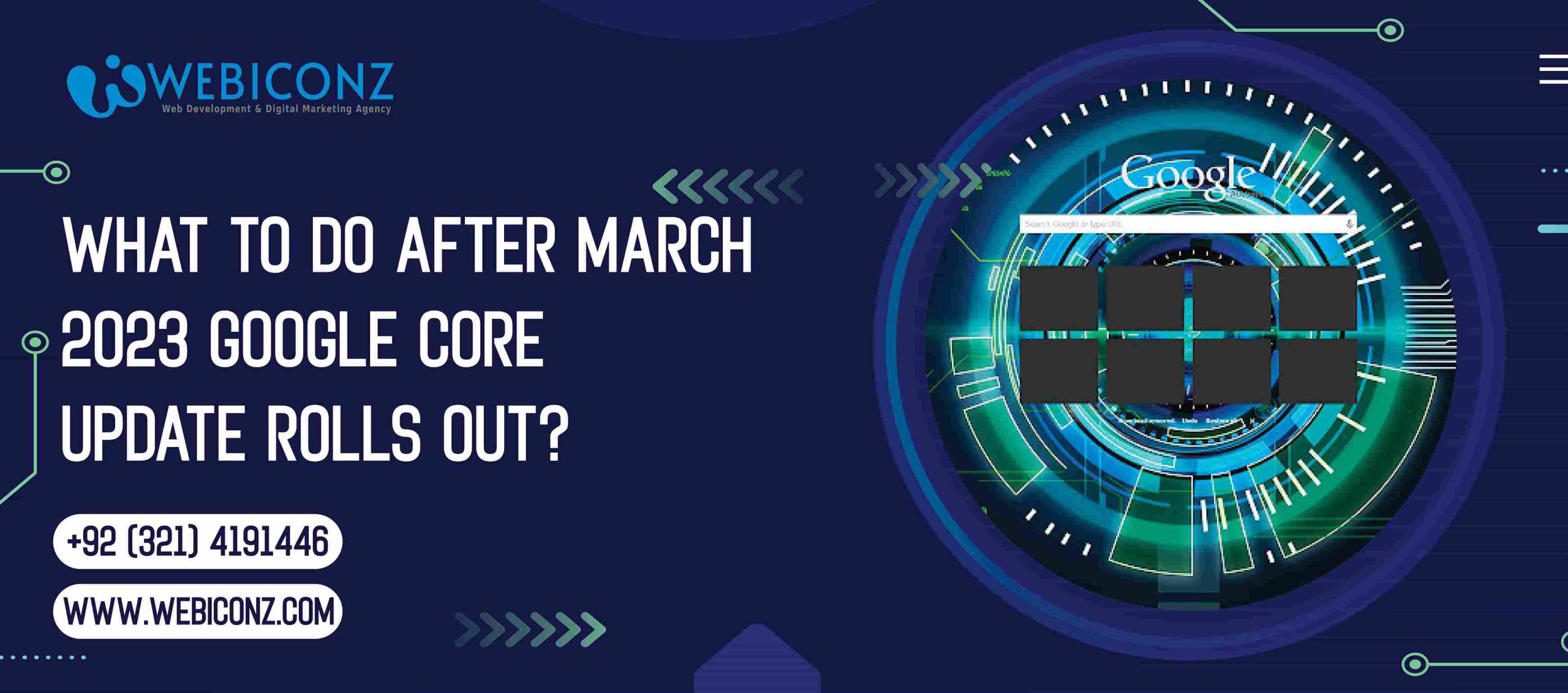 The March 2023 Google Core Update is on its way. It is time for all different website owners to prepare for the changes. Google keeps updating the processing of data and algorithms after the regular passage of time. However, the updates are crucial changes affecting website rankings and traffic. Hence, this article will discuss what to do after the March 2023 Google Core Update rolls out. We will also discuss how you can adapt to the changes.
Understand The Update
The first thing you need to do is to understand the update. Google updates its algorithm to improve the search experience for users. One core update is significant changes that can impact search results. Therefore, this update will mainly place its focus on improving the quality. They will target spam content, low-quality websites, and other factors that can negatively impact user experience.
Monitor Your Website Metrics
The second thing you need to do is to monitor your website metrics. After the update rolls out, check your website's rankings, traffic, and engagement metrics to see if there are any changes. It would help if you did this to improve its quality and relevance.
Improve Your Website Content
It is vital to improving your website content. Google's algorithm aims for high-quality, relevant content, so you must ensure that your website's content meets these standards. Therefore, review your website content and ensure it is well-written, informative, and engaging for your target audience. If your website has poor or copied content, you may need to update or remove it.
Focus On User Experience
Moreover, improve your website's design and layout to make it appealing and user-friendly. Hence, it would be best if you also considered adding features. The algorithm for Google is fundamental to websites that produce a good user experience. Hence, it is vital to focus on getting a higher user experience. This will make your website easy to understand, use, and adjustable for mobile devices. These can be a search bar, social media buttons, and other elements that enhance user experience.
Build High-Quality Backlinks
Another essential ranking element is backlines. This creates quality, and it is crucial to maintain it. Hence, it would help if you focused on having high-quality backlinks as much as possible. You can do this in various ways but should avoid weak content.
Enhance For Voice Search
This is a futuristic approach, so optimizing your website for this feature is essential. Hence, after the March 2023 Google Core Update, you should optimize your website content. It would be best if you focused on doing this for queries that are searched through voice.
Improve Your Website's Security
Website security is another critical factor that Google's algorithm considers when ranking websites. Therefore, after the March 2023 Google Core Update rolls out, you should ensure your website is secure. It would help if you protected it against hacking and other attacks. You can use different kinds of encryption, such as HTTPS, and other tools, such as security plugins.
Add Analytics Tools
Getting the usage of analytic tools is essential. This will monitor your website's performance after the March 2023 Google Core Update rolls out. Google Analytics is a powerful tool that can provide in-depth views into your website's traffic, engagement, and other elements. Use this tool to track changes in your website's performance and make it data-driven.
Focus On E-A-T
E-A-T is a different but fantastic approach for websites. This includes expertise, authority, and trustworthiness as well. Hence, websites should place their focus on E-A-T through various techniques. This can be done by showcasing your expertise in your industry. Other ways are providing high-quality content that shows your authority and building trust with your audience.
Keep Up With Industry Trends
Google's algorithm is dynamic. This is the reason why people should stay on the latest trends. After the March 2023 Google Core Update rolls out, you should stay updated with the latest SEO strategies and tactics. You should follow industry experts. You can also attend different meetings to get a better idea.
Local SEO Optimization
Use local SEO optimization if your target audience is local customers. You can easily do this by adding keywords that link the location and adding content that matches the area.
Fix Technical SEO Issues
There are different technical SEO issues. These include broken links, duplicate content, and slow page speed. These can negatively impact your website's rankings and traffic. Hence, after the update, enhance your website for technical SEO issues and fix any problems. This can help improve your website's overall performance and increase its visibility in search results.
Engage With Your Audience
Having the right kind of customer engagement is necessary. It helps to put on a higher loyalty mark and also gains a better representation of your business. Some of the options are social media platforms and email marketing. This will increase your traffic.
Improve Mobile Optimization
There are more and more users accessing the internet on mobile devices. Mobiles are the most used thing; your website must be best fitted for that use. Hence, you should also place more importance on getting the right kind of mobile optimization. Ensure to create content that can mold into the shape.
Paid Advertising

SEO is essential for driving organic traffic to your website. However, it can take time to see results. Hence, consider supplementing your SEO efforts with paid advertising after the update.
It would be best if you were prepared to make the necessary changes and adjustments. There are different methods. These include monitoring your website metrics, improving your website content, focusing on user experience, building high-quality backlinks, optimizing for voice search, improving your website's security, using analytics tools, focusing on E-A-T, and keeping up with industry trends. Hence, you can excel using all these methods.
Do read our other blogs for any information or contact us for services. Call us for further details or check our customer reviews on Google Maps.