New Year Sale on Digital Services – Jump Start Your 2023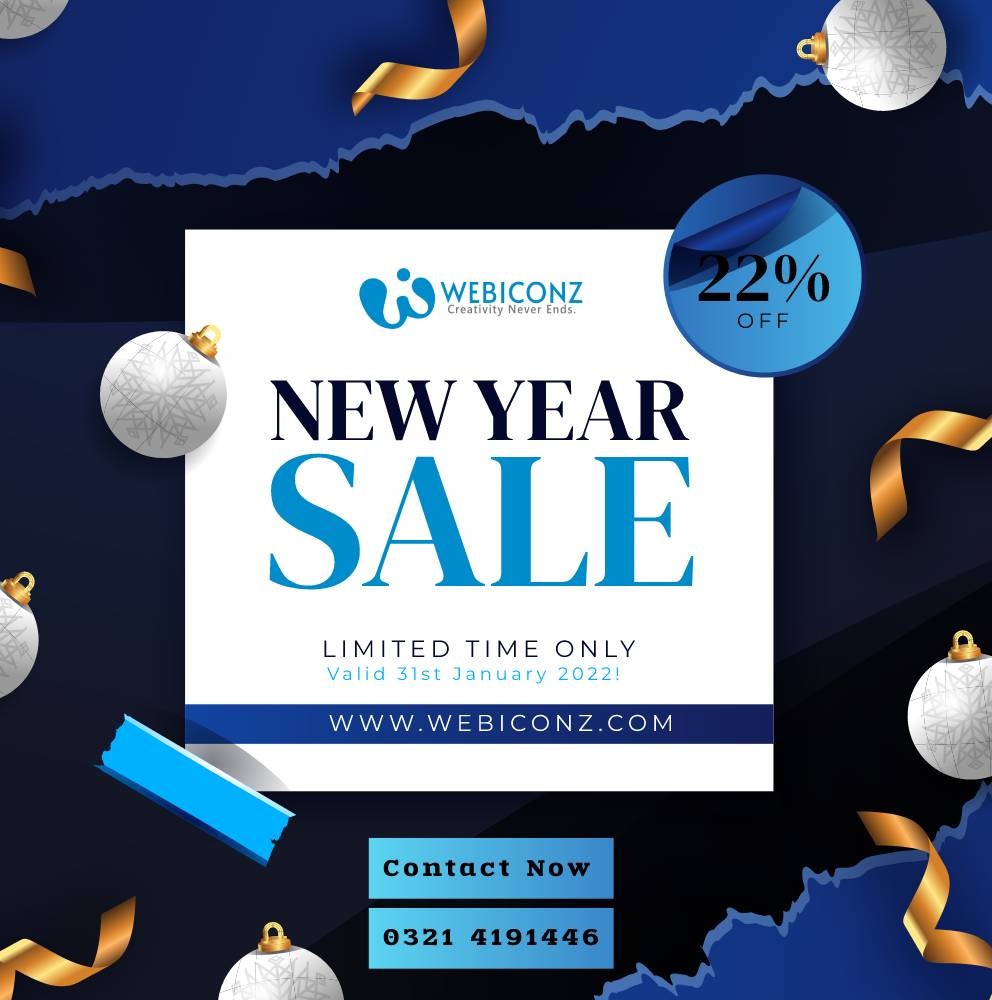 A SUPER SALE is here on this New Year 2023 🤩Avail 

Flat 22% OFF

 on all Development & Marketing Services in Lahore Pakistan ☎️ +92 321 4191446
Promotional offers on Digital Services
Webiconz technologies are bringing a new year's sale in 2023. Get now for the new year's 22% Off on digital services. However, our company gives discounts every now and then but this new year sale is gonna be a hit. Get now the amazing offers. SEO services are not much affordable but we provide the most cheap prices. Buy a package of your choice and stand out among the digital companies.
Do you want the best digital services? budget-friendly as well? Here you go! We have amazing sale offers for you. For instance, we provide offers that are unmatchable.

New Year Sale on Digital Services
A budget-friendly new year sale on digital services in Lahore Pakistan is our goal. Above all, our services are always very affordable. SEO services are not much budget-friendly usually. however, we provide our customers with budget-friendly and super-saver offers. Get now the amazing new year's sale on digital services in Johar Town.
We provide every kind of digital service. From SEO to digital marketing. In addition, our team does their best to make your website stand out. The website ranking on different search engines is very important. For instance, if your website is not among the top 10 on google, then it's not worth the effort. To clarify, our new year sale is all you need to promote your business.
Creating a brand is not that difficult but building it, is something people worry about. Our customers don't need to worry about it. It is the responsibility of Webiconz technologies. The promotional offers we provide are the best.
22% Off on Web Development Services in Lahore
Webiconz Technologies is bringing an amazing new year's sale. Digital marketing costs you because you have a new start-up? No need to worry! We are here to cover you up with our budget-friendly offers. Above all, we do the guaranteed work. Purchase cheap digital marketing services from us. As a result, get your brand marketed perfectly.
 Best time to get your website 🤠🤠🤠
Buy now any web development services in Lahore and get 22% Off with free domain & hosting. All of our promotional offers relating to new year sales will reach you at first. Our customers are our first priority. You can also visit our office in Lahore for more guidance related to the new year sale. Our team is always here to guide and support you. However, you can also contact us for more details about promotional offers.

Digital Marketing Services in Pakistan
With the evolution of technology, the Digital market is getting advanced day by day. Consequently, Lahore is the number one in Information Technology in Pakistan. Being number one on google is not easy in the digital race. Subsequently, Webiconz technologies are the number one digital service provider in Lahore. We operate from our office in Lahore but our services are available across the country as well as around the globe. Amazing new year's sale is ahead.
Contact us now for getting 22% off on all digital services. The new year sale 2023 is all you need to get your brand among the top in the market.
For more details, make a call or drop a message on WhatsApp. You may visit our office through Google navigation. You can contact us, or email us for any digital service.