Why you need a website for your NGO in 2022?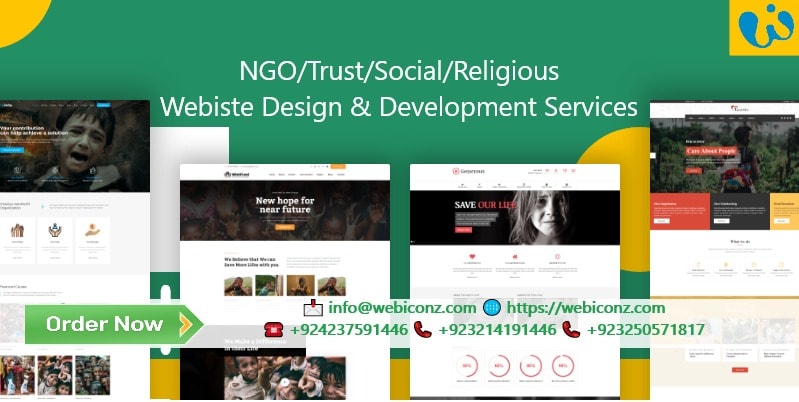 Creating a non-profit website is quite questionable when you don't know the pros and cons. The donation is a respectable cause for those who like to denote and these people are everywhere.
How Can NGO Website Development Benefit us?
To reach those people we need a platform and in this technology era website development in Lahore is the solution. Because people want to donate around the globe they don't know where should they donate? A website platform is where people can donate easily, indeed that, take a little from their precious time.
The website helps a non-profitable organization raise more funds. The non-profitable organization can describe its services, the platform where fundraisers can see in which sectors their money is being used. Where fundraisers can find out where the non-profit organization spent their money.
We understand that the purpose of a non-profitable organization or NGO, they provide its services for the betterment of society. These kinds of organizations need funds to distribute in society. All around the world a lot of people want to donate. With the help of the website, you can improve your presence worldwide which will help in a way that you can find donors and help society. Have an idea?
Average Cost of Website Design for Small Businesses in 2022
Starting Price
   Medium
    Large
Domain (Annually) Prices may vary
on $ Price
                            PKR 3200/Year
Average Hosting Price (Annually)
Pkr 3,000
Pkr 3,750
Pkr 4,500
Website Design average cost of 5 Pages
Pkr 39,999
Pkr 54,999
Pkr 84,999
Website Design average cost of 7- 10Pages
Free
Pkr 4,999
Pkr 9,999
Module Integration (Social Media, Live Chat
Whatsapp Pop-up, Payment Gateway)
               Pkr 4,999 One Time/ Module
Custom Website Designing
Pkr 114,999
Pkr 164,999
Pkr 284,999
We offer charity web design service, indeed that, the elements and features for business websites incorporate into non-profitable websites.
We can maximize user experiences. We can develop extremely efficient security tools to ensure enhanced donations. We can design your logo that apprehends your non-profitable organization's spirit, goodwill features for donors, and Build relationships with donors. Indeed that, increase the involvement of the community so they can donate.
Features You Will Get With Charity Web Design Service:
If you need a website for your non-profitable organization or NGO at a reasonable cost, head over to Webiconz Technologies. Committed to creating unique non-profit organization Web Design. Our non profit website designer in Lahore are highly skillful in designing non-profitable websites. Our NGO Websites Design includes:
Admin Panel
Interactive Web Designs
Member Log In
Simple, Hi-Contrast Font
Event and Publication Management
Newsletter
Ask Questions and Features
User-Friendly Layout
High-quality Images
Unique Logo
A Big Join or Donate Button
A Clear Call to Action
An Easy-to-Find Search Box
We know your budget limitations. So, we offer you our services at a really cheap & affordable cost.
So, make a call or drop a message on WhatsApp. You may visit our office through Google navigation.
Else contact us, or email us for any IT services.

Common Searches: 

WordPress Design In Lahore, NGO Website Pakistan, NGO WordPress Design In Lahore, lahore NGO Website company, Nonprofit Website in Pakistan, non profit website designer in Lahore, WordPress web development company in Pakistan,Wordpress web development price in Pakistan