Why do you need a real-estate website?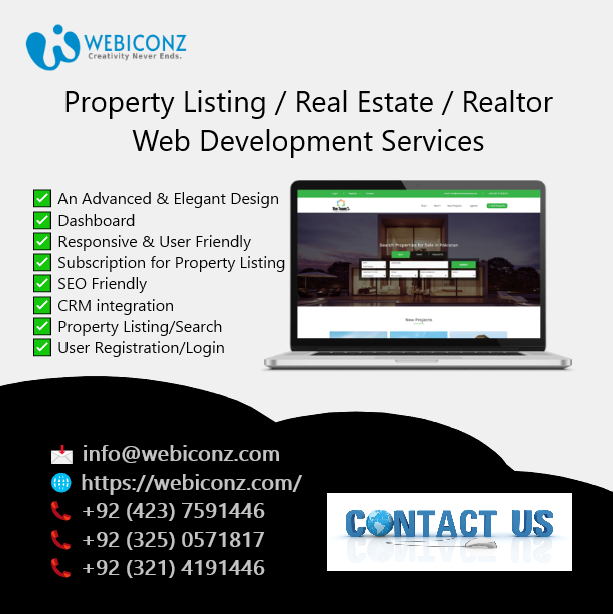 Nowadays, Everyone is familiar with the Internet; they know how to use a website. There are many business web platforms. Many people are starting or expanding their businesses online. They know that there are many benefits for small businesses of having websites to keep their presence online.
Web Makers & Online Presence – Best Real Estate Web Development Company
The Internet is an essential tool, even part of our life in the primary search process. A real estate agent may miss out if they don't have a website. But don't you worry. We found out the best real estate web development company for you – Webiconz Technologies. We care because we offer you relatively cost-effective and efficient services for REAL ESTATE Website Development Services Company.
How to select the features you need for Real Estate Agent Website Design?
It is necessary to have up-to-date searches and filters. Indeed, if a website allows search smoothly, the clients will find it easy to manage according to their needs. No doubt, it will be beneficial for your real estate agency. Additionally, it will help you develop a strong customer relationship with the help of a real estate website and property website.
As a matter of fact, property website design and development can help you catch more customers around the globe with more significant markets. Isn't wonderful? Why wait when you can increase your income by a website. Build your own real estate website/realtor website and make it a brand.
It would be best if you were looking for more customers to build a relationship with customers. To maintain the relationship with customers, offer your correct contact details to contact you via the website. Furthermore, you will get a contact form so that clients can easily send their queries through that contact form. Indeed, clients and the company will be secure, and they will contact you whenever they want to buy a property.
In addition to the above, the appearance of the map is necessary for a real estate website. Indeed, people can take a full view of available properties according to their desire. It makes it customers easy to search for their desired property. As a good real estate web development company, it's our responsibility to care for all users' businesses. In addition to the above, get user friendly, mobile optimized, property listing website that brings business.
Estimate Cost of Real Estate Web Development Prices in Pakistan:
Starting Price
Medium
Large
Domain (Annually) Prices may vary

on $ Price

3000
Hosting (Annually)
Pkr 3,000
Pkr 3,750
Pkr 4,500
Website Design
Pkr 39,999
Pkr 54,999
Pkr 84,999
Data Migration
Free
Pkr 4,999
Pkr 9,999
Module Integration (Social Media, Live Chat
Whatsapp Pop-up, Payment Gateway)
Pkr 34,999
Pkr 44,999
Pkr 74,999
Average eCommerce Website Cost
Pkr 199,999
Pkr 314,999
Pkr 444,999
Custom Website Designing
Pkr 114,999
Pkr 164,999
Pkr 284,999
So, make a call or drop a message on WhatsApp. You may visit our office through
 Google navigation. 
Else contact us, or email us for any IT services.

Common Searches:
Real Estate Websites, Top Real Estate Website Design Company in Pakistan, Real Estate API Development and Integration Services in Islamabad, Real Estate Website SEO Services, Real Estate Social Media Marketing Services, Real Estate Digital Marketing Services, Real estate web design services, brokers websites, real estate web portal development, Real Estate Digital Marketing Solutions Karachi, Real Estate Website Maintenance Services Islamabad, Real Estate Branding Services, Real Estate CMS Development Services, Real Estate Website Development, and Solution Provider in Pakistan, WordPress real estate website development company real estate web portal solutions near Lahore, real estate website designer Karachi.