Best Technical SEO Service Agency in Lahore Pakistan 2022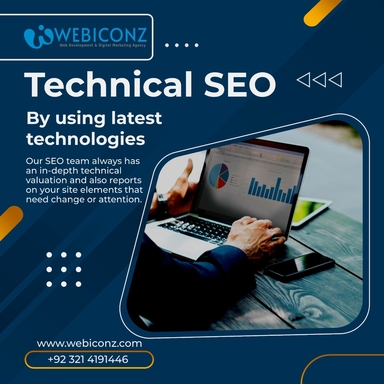 Searching for 

Technical SEO service in Lahore

? Webiconz Technologies focus on every SEO ranking factor whether it's technical or non-technical


We are a Webiconz Technologies Team, new thinking and with years of experience. Whether you are looking for technical SEO service in Lahore Pakistan or affordable SEO packages in Lahore, you are right. Nothing can cheat search engine algorithm but only relevant content. So, your services and products can appear in front of the right customers using the right SEO strategies. We are choosing the right keywords for your site and high traffic. Also, complete a content review and reset it to get higher rankings in search engine results. 
Get Monthly SEO Report From Best SEO Company in Lahore
Searching a website for search engines takes time. However, we believe in accountability for our customers throughout the SEO process. So, we provide all our SEO clients with detailed monthly reports, including traffic analysis and key rates. Your monthly report allows you to view the most popular pages that people visit and the route they take while using the website. We can provide the search terms to find your business website and their location are the information we can provide.
Get Technical SEO Service in Lahore Pakistan from Experts
Looking for the best SEO services in Pakistan? We bet you want the best in the market. Because you want to succeed. It is where Webiconz Technologies helps you with the best SEO services in Pakistan. We are experienced in our work and list many sites for our customers. All of our clients have achieved success through our effort. We will do our best for you from our side, and you will get a position at the top. Therefore, we use all the most advanced techniques. Also, we constantly check the search engine algorithm and adjust our strategies accordingly. Hence, you will get the technical SEO service in Lahore, Pakistan, to bring you relevant traffic.
Your site needs both quality content and keyword optimization to get the best SEO service. So, we have done it so many times that we do it in our sleep. Hence, if you have our project, we'll take it as a challenge and give you what you need in search engine results.
Why Choose Technical SEO Service in Lahore?
Want to increase your business website traffic? Then check out our affordable packages that offer everything you need. Drive traffic, authority backlinks, keyword reporting, and much more. Hence, Webiconz Technologies provides the best SEO services in Pakistan. We already served our services in Pakistan's different cities including website SEO Lahore, Karachi, Islamabad, and other cities.
Qualified Organic Leads

Increased User Engagement

Top Keyword for your industry

Guaranteed Following
So, make a call or drop a message on WhatsApp. You may visit our office through Google navigation. Else contact us, or email us for any IT services.