How To Make Money With A Classified Website in 2022?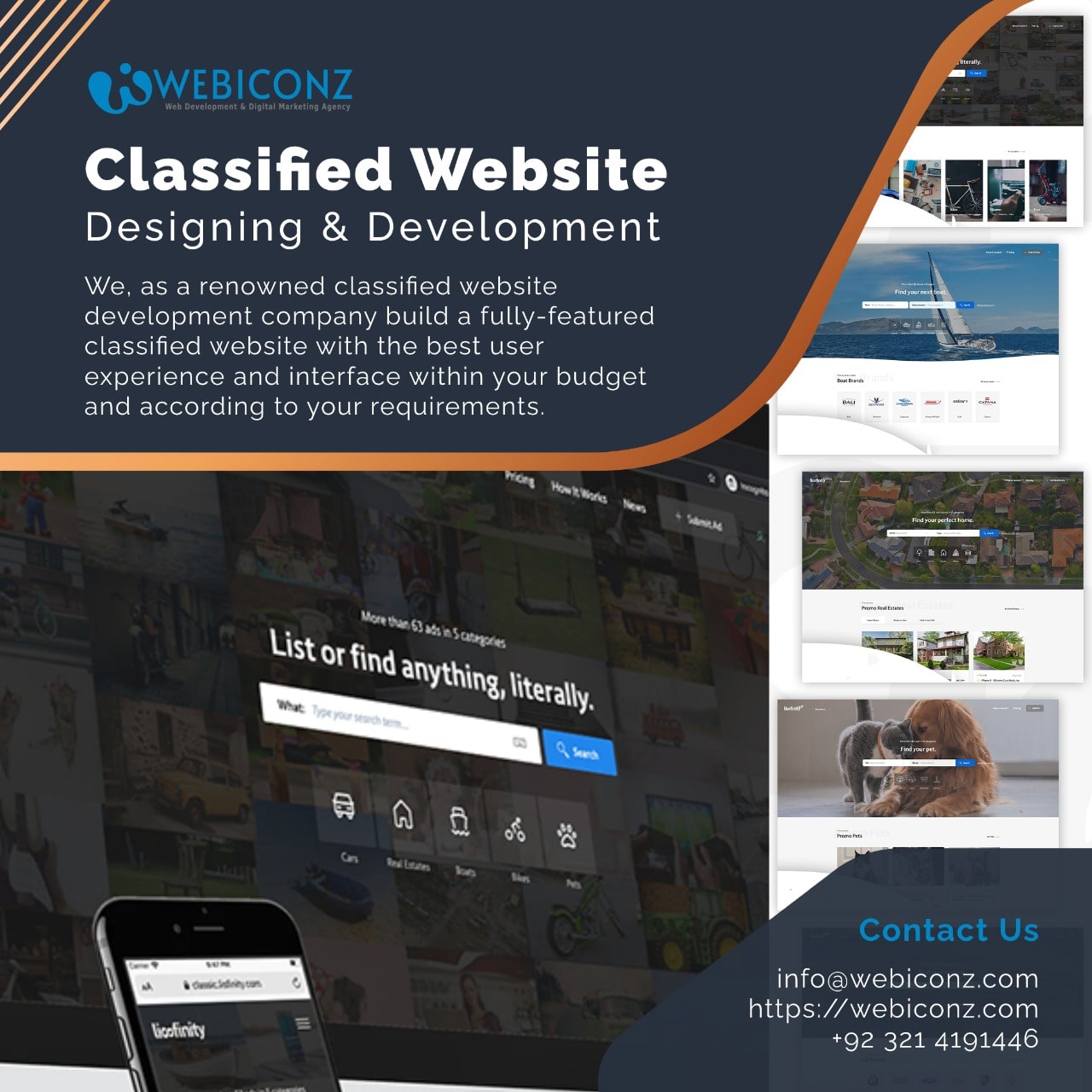 Our company offers a classified website development service that is easy to use and effective. Our expert team is dedicated to creating both aesthetically pleasing and functional websites. We have a wide variety of clients who are satisfied with our services. However, we specialize in creating detailed classified web designs that are perfect for anyone looking to sell items online. Contact cheap classified web design & development company today to develop the perfect classified website for your needs. 
Features of classified website development
Multi-Location Based

Filteration system

Ads Management 

User Management

Premium Ads Feature

Payment Gateway

News & Blogs

Custom Forms

Advertising Panel
How much does it cost to build a classified website?
If we're talking about a more complex website with additional features and a custom design, the cost of development will be higher, starting from PKR 60,000.
The price also depends on which platform you choose to build your classified website. If you want a ready-made solution, you can expect to pay around PKR 40,000 for a license.
Building a classified website from scratch would require more time and effort but would ultimately be more rewarding and cost-effective in the long run. You can expect to spend anywhere between PKR 5000- 25000 per month on hosting and maintenance fees for such a website.
Thus, the cost of developing and maintaining a classified website varies depending on the features and complexity of the project
Types of Classified Websites
 Some of the most fragmented websites are widely used
Recruitment Site

Travel and Tours

Packaging

Property Listing

Business Website

Educational Website

Food & Beverages

General Classified Website
How Creative Web Designers are Spawning Innovation and Creativity?
Creative web design is all about taking risks and pushing boundaries. It's about going above expected and delivering a website that truly stands out. To do this, you need to be able to think outside the box and come up with creative solutions for even the most challenging problems. Moreover, at Webiconz Technologies, we are proud to say that our web designers are the most innovative and creative.
Innovation and creativity are two important aspects of any business. And when it comes to
classified website development services, both qualities are essential. So how do you promote strategies and creativity in your web design company?
The answer is simple: hire creative web designers.
Do you need help developing a classified website? Our team at Webiconz Technologies can help you create a site that is both user-friendly and effective. We specialize in designing detailed classified web pages perfect for selling items online. Contact us today
What's more, creative web designers will also bring their unique style to your website.
With split advertising in newspapers, magazines, or tabloids, the practice of using separate online advertising is also growing in popularity which has attracted many businesses to launch affiliate websites or sites. The best-classified web development company in Lahore has a team of professional and experienced web developers who provide you exceptional service.
Interested? Make sure you click on the Call button to discuss or drop requirements to get a perfect and affordable proposal.
You are here for the classified website in Pakistan and we are here to make it for you!
Common Searches:
classified website development service, classified web design & development company, classified web development company, classified website in Pakistan, classified website development service provider, classified web designer near me, classified portal development company, custom classified portal development company, advertisement website developer in Lahore
For more details, make a call or drop a message on WhatsApp. You may visit our office through
Google navigation.You can contact us, or email us for any digital service.