Why does your plumbing business need a professional website?
Looking for 

best website designer for plumbers

 in Pakistan? Get best plumbing website design service 
from us in Pakistan ☎️ +923214191446
About 90 percent of consumers search for local businesses online as soon as they are commended verbally. So, if you're a plumbing business owner, it's essential to have an online presence. And the best way to achieve that is by having a professional website.
Your website is like your digital storefront – it's where potential customers go to learn more about your business and what you have to offer.
Why There Is A Need For Eye-Catching Web Designing For Plumbers?
It is important to have a good plumbing website. Today, good website design has the following: Easy-to-use and responsive web design – Website visitors will judge your business in a matter of seconds, which is why you need to make sure your site is user-friendly and responsive.
A website is now a must for any business that wants to succeed. If you're not sure where to start, don't worry! We've put together a list of the best website developer for plumbers.
As a plumbing business, it's important to have a website that is both informative and visually appealing. Your website is usually the first link between you and potential customers, so it's important to create a good image.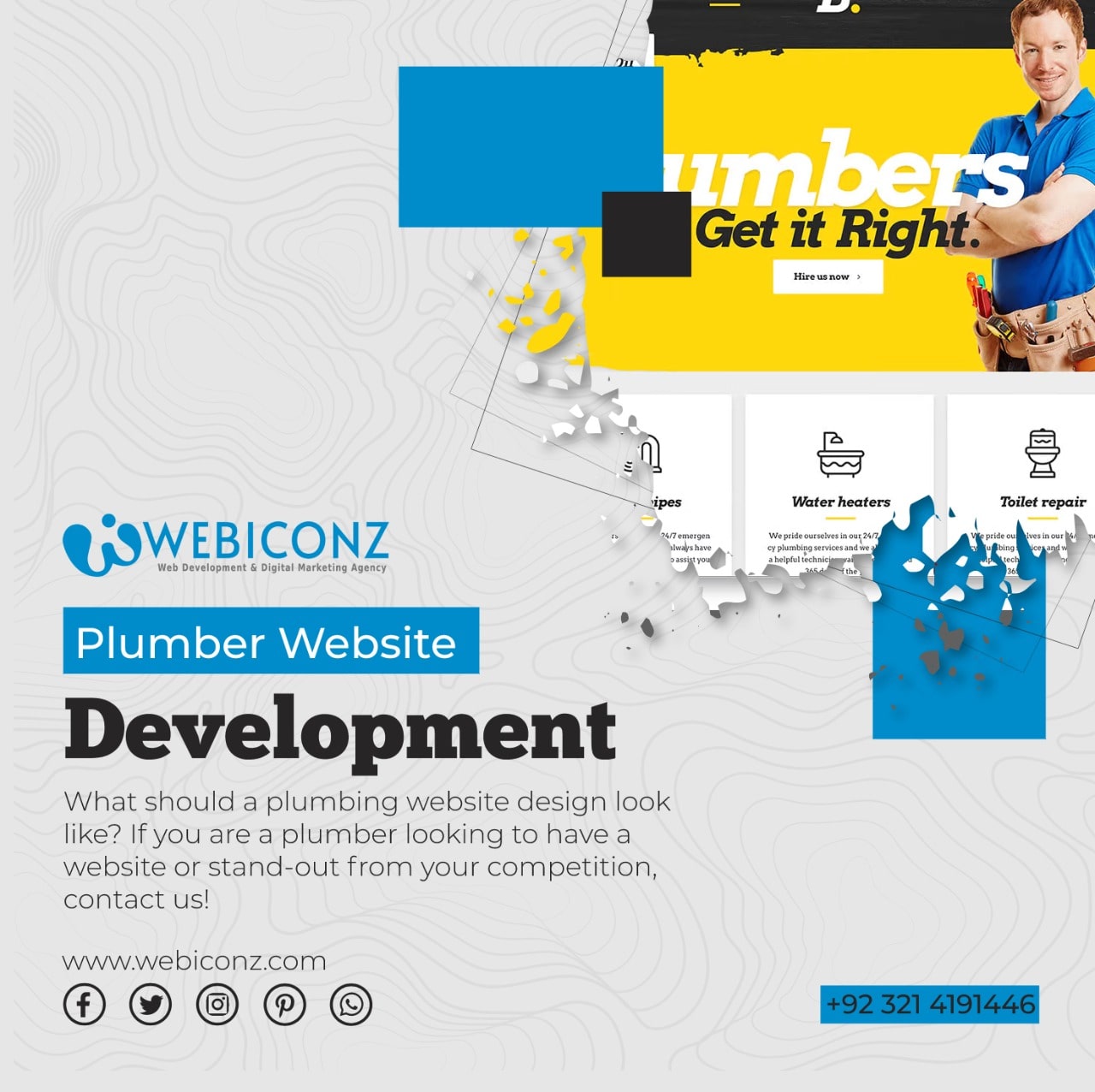 Top 5 Features Every Plumbing Website Needs
It's important to focus on the most important things when building your
plumbing website designing services. People want to know what you're building and what you're going to do for them. You need to do a great job explaining your services and what you can do for them.
Simple URL
Responsive Design
Explicit Business Information
User – Navigation Menu / User Bar
Specific Contact Form or Online Booking Request Form
Choose The Professional Website Designer For Plumbers
The best website designers for plumbers will offer pre-made templates that are specifically designed for the industry. This ensures that your website looks professional and is easy to navigate. Additionally, many of these website developers come with built-in SEO tools to help you rank higher in search engines.
If you're ready to take your plumbing business to the next level, consider using one of these best website development agency for plumbers. With a little time and effort, you can have a beautiful website that attracts new customers and helps
By creating a website, you'll be able to:
Showcase your work

U

se your website as an online portfolio
Get The Best Plumbing Website Design
As the world increasingly goes digital, it's more important than ever for plumbing services websites. But not just any website, the best websites for plumbers are visible in search engines, mobile-friendly, and secure.
At Webiconz Technologies, we specialize in building a website for plumbers to mark all those boxes. Our team of experts creates a website that accurately reflects your product and helps you get visitors engaged.
Mobile-friendliness is key that gives 57% of online traffic now comes from smartphones and tablets. And as far as security goes, our websites are all built with HTTPS instead of the less secure HTTP, this means your site is less likely to be hacked. 
Interested? Make sure you click on the Call button to discuss or drop requirements to get a perfect and affordable proposal.
You are here for the plumbing services website and we are here to make it for you!
Common Searches:
website design for plumbers, best plumbing website design, best website designer for plumbers, plumbing services website, best website designing services for plumbers, best handyman website design service in Lahore, best web developer for plumbers, best websites for handyman business, best website designer for handyman near me, affordable handyman website designer in Johar Town.
For more details, make a call or drop a message on WhatsApp. You may visit our office through Google navigation.
You can contact us, or email us for any digital service.