Why Nobody Can Guarantee First-Page Google Rankings?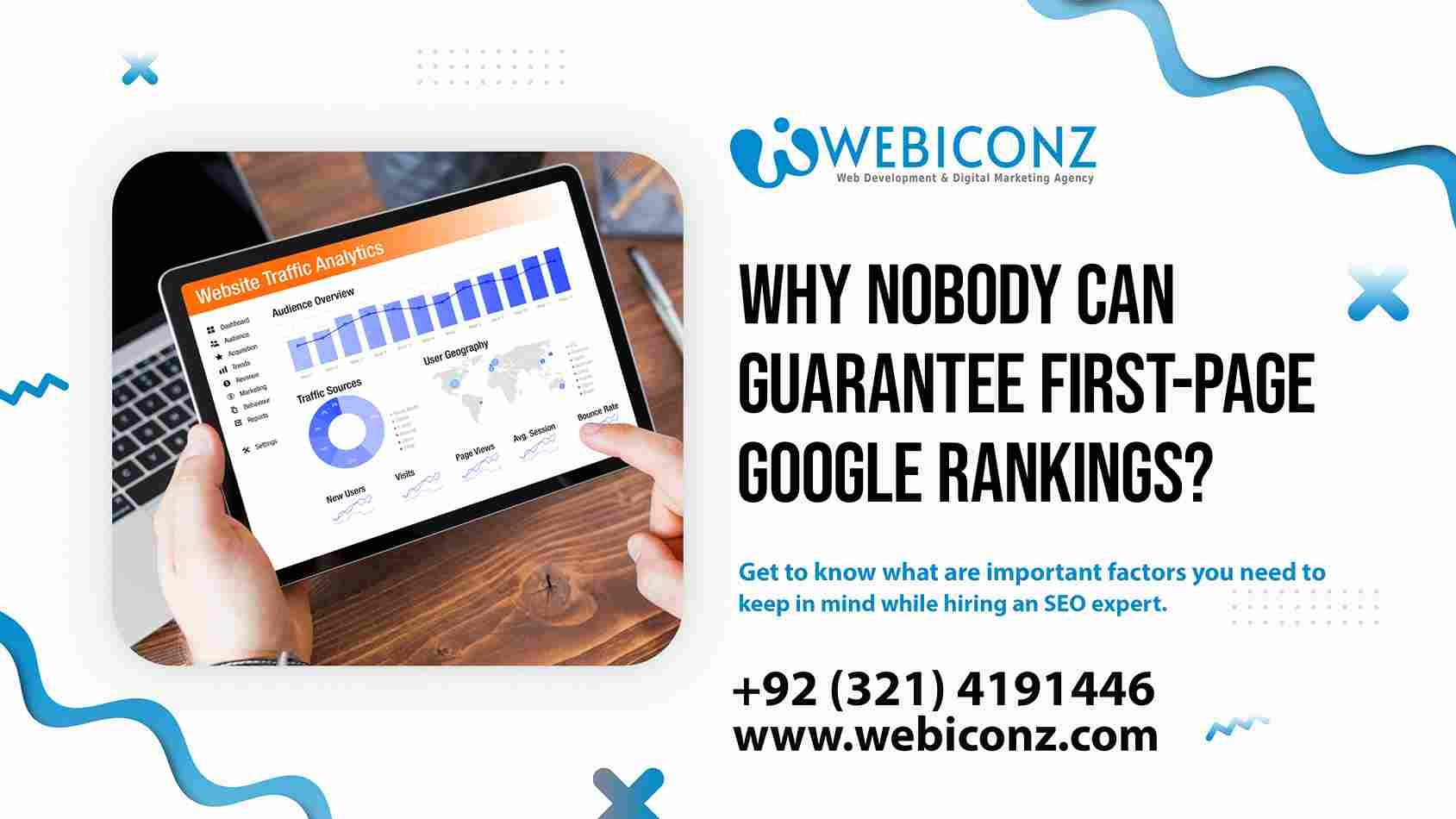 SEO allows people to display their websites at the top without any hesitation. They allow this while following the right kind of techniques and tools. While being in order with everything, you will not seem far behind. However, there are different things that take to come on the first page of Google rankings. Things can still take a turn because there is no guarantee about anything. Though SEO hacks and techniques might be somewhat reliable, it isn't always the case. It can just put you off the edge and create a bubble of dishonesty.
Tons of different people have learned that first-page ranking is the best way to increase the traffic of your website. However, it is not only the case. There are tons of other ways how you can add and create value to your website. Some even without being on the first page of Google ranking with ease. No agency should offer customers first-page rankings. That is because it is not true to get it through some tools and hacks. It is considered to be wrong. There are plenty of different reasons why no one can guarantee you first-page rankings. Here are some of them:
First-Page Ranking Does Not Mean Coming in The First Position
There are 10 different pages on the Google search page results. It is true that the last page websites do not get many visitors because searches don't visit the last page. However, you should not make your aim of ranking on the first page but rather, somewhere between the 5th page to the 1st.
Even if you rank on the first page of Google search, it does not necessarily mean that you are going to be getting the benefit. People usually think they will have all the traffic to themselves. This is an ideology that has crept into the minds. You should just be between the 5th page of the search to the 1st.  Hence, no one can be guaranteed that you will be listed on the first page. That shouldn't be your goal either as any page will do. All of the 10 search result pages get traffic but it lowers due to user performance.
First-Page Rankings Do Not Stay For Long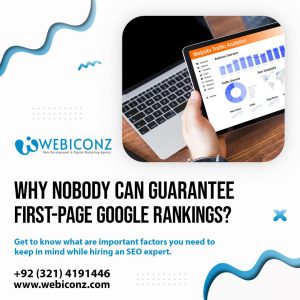 Being on the first-page ranking of Google search might be a huge success. However, it will die down quickly because the results of the first page do not stay there for eternity. You will gather all of your strategies for getting to the top but once you do, things will automatically change. Plus, it is quite hard for different agencies to list you at the top and in the first-page search. This is because of the dynamic view of changing Google's algorithms. Moreover, there are a bunch of other websites and competitors who are working to get into that position.
These 2 are usually the big factors which are taken into account. Everyone should know of these as well because it will decrease the rankings. Hence, for you to be on the first page at all times, you need to keep a strict eye on the SEO strategies that you are following or the agency. If not, then you can fall quite down with just a minor error.
However, you cannot compete with the changing elements of Google's algorithm. Therefore, you will be at a loss for this reason. It is in the hands of no one apart from Google and the changing world of technology. This is majorly in competitive topics and industry because every competitor is continuously working to get to the final stop which is the first page. Therefore, it gets tough to maintain the seating and you will eventually lose that spot with time.
Not All Keywords and SEO Strategies Will Present You With The Top
There are thousands of different kinds of SEO strategies and all of them work on ensuring to place you to the top. Hence, you are also paying them and if you want to reach the top, you would expect them to give you great results. However, there is not always a 100% surety that through the best strategies of SEO, you will be getting the highest rank. There are keywords that usually help websites in ranking but some keywords do not hold that value. Therefore, if someone searches for the keyword and it does not hold value, very few websites will appear.
Therefore, you will have to place importance on different things of SEO which will give you the desirable results but, it is to be kept in mind that you will not have the first ranking at all levels and times. Choosing the phrases and keywords are important to ensure of but poor ones will not lead you to higher rankings.
SEO is not Cheap
Whoever recommends you cheap SEO, is always going to be a scam. There are tons of different ways how you will be getting in contact with people who offer cheap SEO and this is going to be the biggest red flag. No one wants to compromise on quality and when you offer cheap SEO, then chances are that you will be opting for compromising your quality. When quality is reduced, then there is no way that you will be able to get rank on the first page, and with immense balance, you will have to take different measures to fulfil your working potential.
You might see some small gains but it will always be difficult to get to the top with cheap SEO because it will not have the right kind of techniques and elements needed. It will be a risky element to put forth.
Conclusion

Though being topped on the first page SEO is a huge element. It contributes to the development of your business. Yet, there is still no 100% secure way how someone can give you the guarantee of being at the first-page search. Therefore, the only way is to keep following the guidelines and working on the rules to get proper SEO results.
Do read our other blogs for any information or contact us for services. Call us for further details or check our customer reviews on Google Maps.