Frequently Asked Questions About Website Design And Development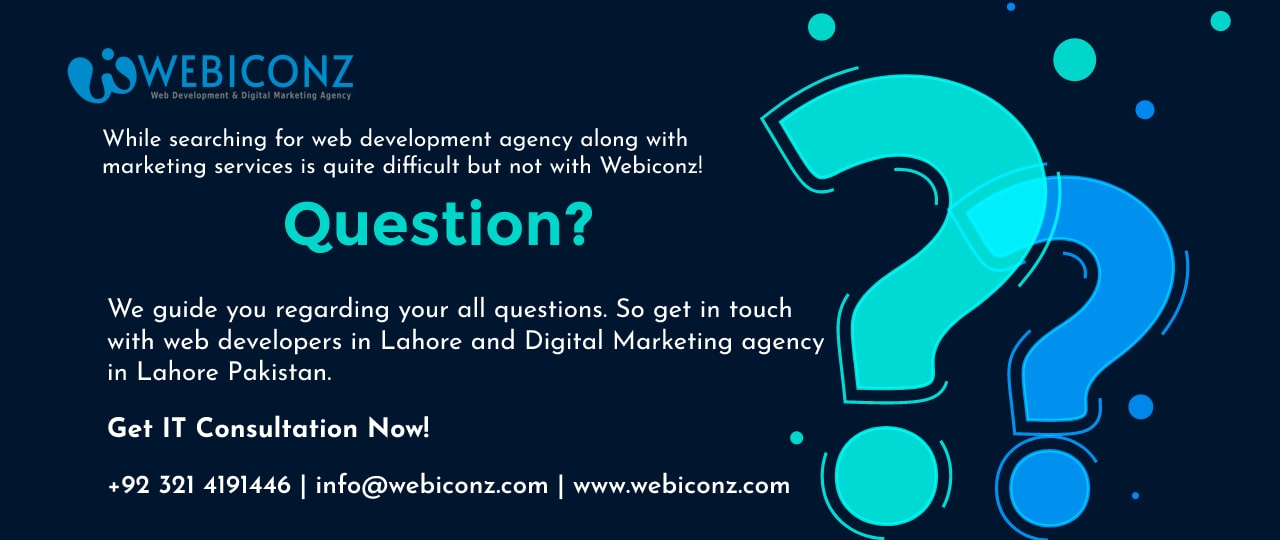 There are so many questions that arise in our mind when we go for online business setup. Although we get many suggestions from our friends, family, colleagues, and from Google, obviously. However, not just Google, Bing, Yahoo, duckduckgo, & other search engines are also available.
Let's have an overview of the questions PEOPLE ALSO ASK From Web Development Company in Pakistan!
Is there any difference in Website Development Cost In USA from Pakistan?
The price difference only depends on the client's requirements, domain TLD, and Hosting packages. In 2023 or onwards, the cost starts from $1000 in USA and Rs. 25,000 in Pakistan for a basic 5-8 pages website (Informational) While for e-commerce it will start from $1500 in USA and Rs. 50,000/- in Pakistan.
At Webiconz, we analyze costs after understanding the scope of work needed for each project. Prices vary depending on the complexity of clients needing a customized design or other services.
How Long Does It Take To Build A Website?
Generally, designing and developing a simple informative website of 5 to 10 pages takes 10 – 15 days & eCommerce website development takes 20 to 25 days minimum. This timeline can be extended even further depending on the complexity of the design and development requirements.
Website builders can help you create an attractive site in just a few days. But they must be equipped to provide you with the extensive features many professional web designers offer. 
Will I Get Domain Hosting Free With Web Development Services In Pakistan?
Yes, you will get free domain and hosting on website order. Although, domain TLD will vary. Furthermore, Renewal Cost for Domain & Hosting vary from Rs. 3,000/- up to Rs.10,000/- Annualy in Pakistan. 
Which Platform Do You Use To Build Our Website?
We use different platforms depending on your specific needs.. The most popular platform for website design and development is WordPress in 2022. While another popular option is Joomla & Shopify. 
Finally, if you're looking for something more specialized, plenty of frameworks are available. Magneto, Laravel, etc are the most popular web frameworks developers use today. 
Will You Maintain My Website?
We will update your website to ensure it stays up-to-date with the latest standards. We also offer a maintenance package that provides monthly updates to your site. However, if you want us to create new content for you, such as adding a new page or updating existing pages regularly, You'll need to purchase an ongoing services package from us.
Do I Need To Be Concerned About SEO?
Yes, your website needs to be seen by your potential customers. Without visibility, generating revenue from your site cannot be easy. You can take several steps to ensure that search engines will index your content for the appropriate keywords. The more often a page is crawled by the search engine's crawler, the higher the list will appear in Google or Yahoo! Searches.
Can You Help Me Write Content For My Website?
Yes, we can help you with writing content for your website. We can either write it for you or edit your existing content to ensure it is the best quality possible. Either way, the result will be a high-quality piece of content for your website that's optimized for search engines.
What Is Your Project Management Process?
Our web design and development agency has a rigorous project management process that ensures successful projects from start to finish. We begin each project by gathering information from our clients to understand their goals, target audience, timeline, budget, and other relevant details. We then create a detailed project plan that outlines the tasks necessary to deliver the project within the agreed-upon timeline and budget.
Once the project plan is in place, our team begins working on the design and development of the website. Throughout this process, we maintain regular communication with our clients to fulfill their needs. We also provide detailed reports and regular updates to ensure that everyone involved is up to date on the project's progress.
So, if you want to place an order with us for web development services in Pakistan or SEO services in Lahore Pakistan, get in touch with Webiconz Technologies.

Make a Call now or contact us via Email or Fill the contact us form. Else you need to checkout our reviews, do visit web development company.