Complete Guide To eCommerce Website Development Charges- Webiconz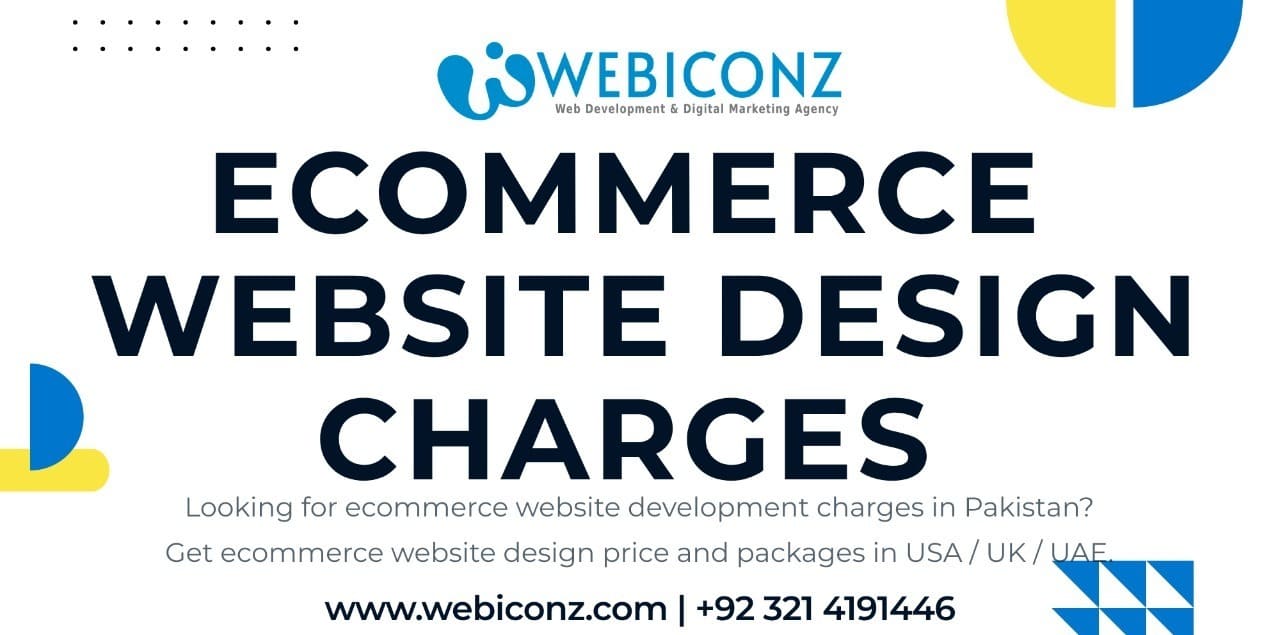 Looking for eCommerce web development charges? Hire us for cheap eCommerce website development packages in Lahore, Pakistan. 📞 +923214191446
Webiconz provides custom eCommerce solutions and helps companies sell their products or services online. Our expertise in developing eCommerce websites allows us to create unique solutions that meet our client's needs. And giving them an edge over the competition. eCommerce Web Development Charges are critical to every project we undertake. Ensuring we provide value to our clients and deliver exactly what they want and need. Here's how we do it.
Factors That Affect eCommerce Web Development Charges
Type of online store:

 The type of the store will have an impact on the cost. For instance, if a company has several products and needs to provide pictures for each one. The price is likely higher than if it were an online jewellery shop with only a few items. The type and complexity of your website design also play a role in determining your costs. 

Shipping Option Complexity:

 If you're providing customers with shipping options that vary by weight or location, it differs in price.

Platform:

 There are plenty of platforms to choose from when creating an eCommerce site. Shopify, WooCommerce and Magento are among the most popular choices. They can all offer various features, but not all are free, and some come with monthly fees. 

Data Imports:

 Importing data into your system may not require work. But, importing incomplete data could cause errors and glitches. You must ensure that all fields within your database tables are populated before import. 

Responsive:

 Your choice of responsive framework impacts your web design and performance on different devices. It is generally wise to go with a mobile-friendly framework. But other factors like speed and ease of coding also play into these decisions.

Web Design Cost Factors:

 Aesthetic details such as color scheme, logo placement, layout etc. It will affect how much you spend on your site's web design portion. 
eCommerce Website Development Packages We Have
Here are three eCommerce website development packages:
Basic Business eCommerce website
Basic eCommerce websites are often the cheapest option for small businesses that want a reliable, easy-to-use, scalable solution. The most affordable is the basic plan, perfect for startups or businesses looking for a low-cost solution. That their staff can easily manage. Webiconz offers you an essential website for 44,999.  
Medium Business eCommerce Website
Medium Business eCommerce websites are much more complex than small business eCommerce sites. They have a more significant number of features and, in many cases, a heavier content base. Moreover, If you have a medium business website, expect to pay around Rs. 54,999 for design and development. 
Corporate Business eCommerce Website
Corporate Business eCommerce websites are the backbone of any business. It is the first thing customers will see when they enter your site. And it needs to be flawless for people to take you seriously. Furthermore, A professional website will help you stand out from your competition and ultimately increase sales. Webiconz offers this website for 89,999.
Key Takeaways
If you want to get the best bang for your buck, Webiconz is a great place to start. We offer a wide range of services and have competitive prices. We also provide our services in Lahore, Pakistan, Karachi, Islamabad, Rawalpindi, Multan, Faisalabad, Gujranwala, USA, UAE, UK, Canada, Germany, Malaysia, KSA and other major countries.
For more details, make a call or drop a message on WhatsApp.
You may visit our office through Google navigation.

You can contact us, or email us for any digital service.