Pakistan Web development Services VS England Web Development Services!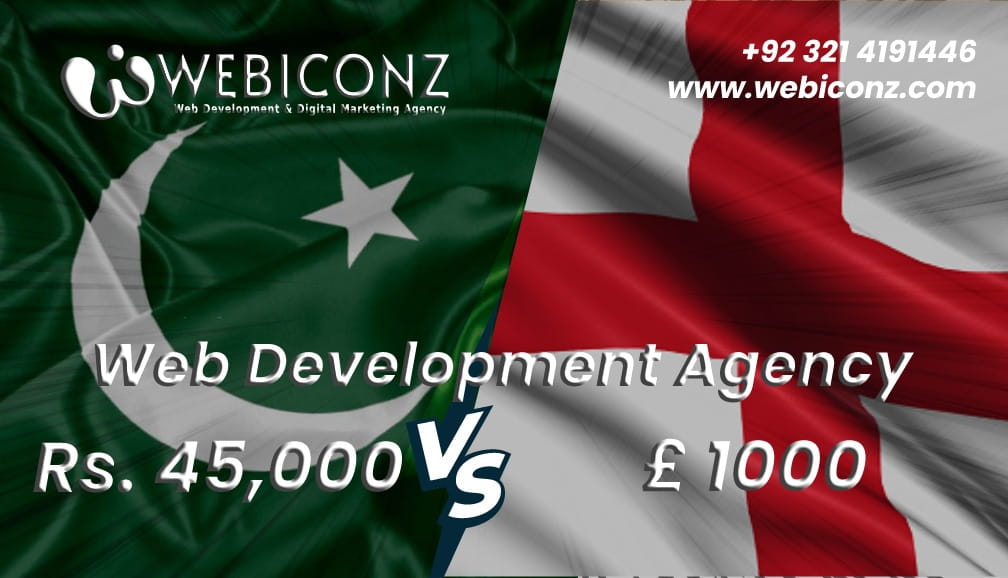 Check the difference between Pakistan web development services and England web development services. 📞 +923214191446
Webiconz is the top-rated web development company in Pakistan. As a result of our hard work, we have built excellent client relationships with numerous companies, businesses, and individuals. That has allowed us to become one of the most sought-after providers of web design services. Here are a few differences between Pakistan and England web development services.
Services Offered In Pakistan and England
Webicons offer a wide range of high-quality web development services, including:
Website Design and Development:

We work with you to establish your branding and design an attractive, easy-to-navigate website. Whether it's a new site or redesigning your current website, we can help you achieve the look you need.

eCommerce Website Development:

Our eCommerce websites are designed to be user-friendly and provide customers with an excellent online shopping experience. And efficient back-office functionality for administrators.  

Web Hosting Solutions:

Choose from one of our hosting packages to get your website live on the internet. All hosting plans include one-click installation for popular content management systems like WordPress.

SEO Services:

We offer pay-per-click and organic optimization strategies to ensure top rankings in global search engines like Google.
Prices
Prices are different for Pakistan and England web development services. For example, hiring professional development services in England will cost you around £500-£1000 with a service agreement of 6 months. Employing the same experienced developer in Pakistan will cost you around Rs 45,000 ($203) with a service agreement of 6 months.
Quality
Webiconz offers the same quality of service that you can find in England. Whether it is a high-end or essential website, our team of professionals will work hard to ensure your website is as perfect as possible.
Customer Service
What sets us apart from the competition is our customer service. We want you to feel comfortable with Webiconz and know we are here for you when you need us most. With our state-of-the-art 24/7/365 customer service, you will never have an unanswered question or unmet need again. Our team will be happy to help whenever they can; email or call us.
Deadlines
Deadlines are a difficult but necessary task. A timeline can be anything from a to-do list or a checklist of things that need to be completed and their deadlines. Webiconz delivers quick turnaround times with an affordable budget, not to mention all the other benefits that come with our Pakistan web development services. We work in partnership with you to bring your project idea into reality and provide you with a solution tailored specifically to your business needs.
Overall Satisfaction
Whether it's Pakistan or England, we will give you satisfaction in web development services. We aim to ensure you have all the necessities and get as much work done. We want you to be satisfied with our job, so come back to us if there's a problem.
For more details, make a call or drop a message on WhatsApp.
You may visit our office through Google navigation.

You can contact us, or email us for any digital service.